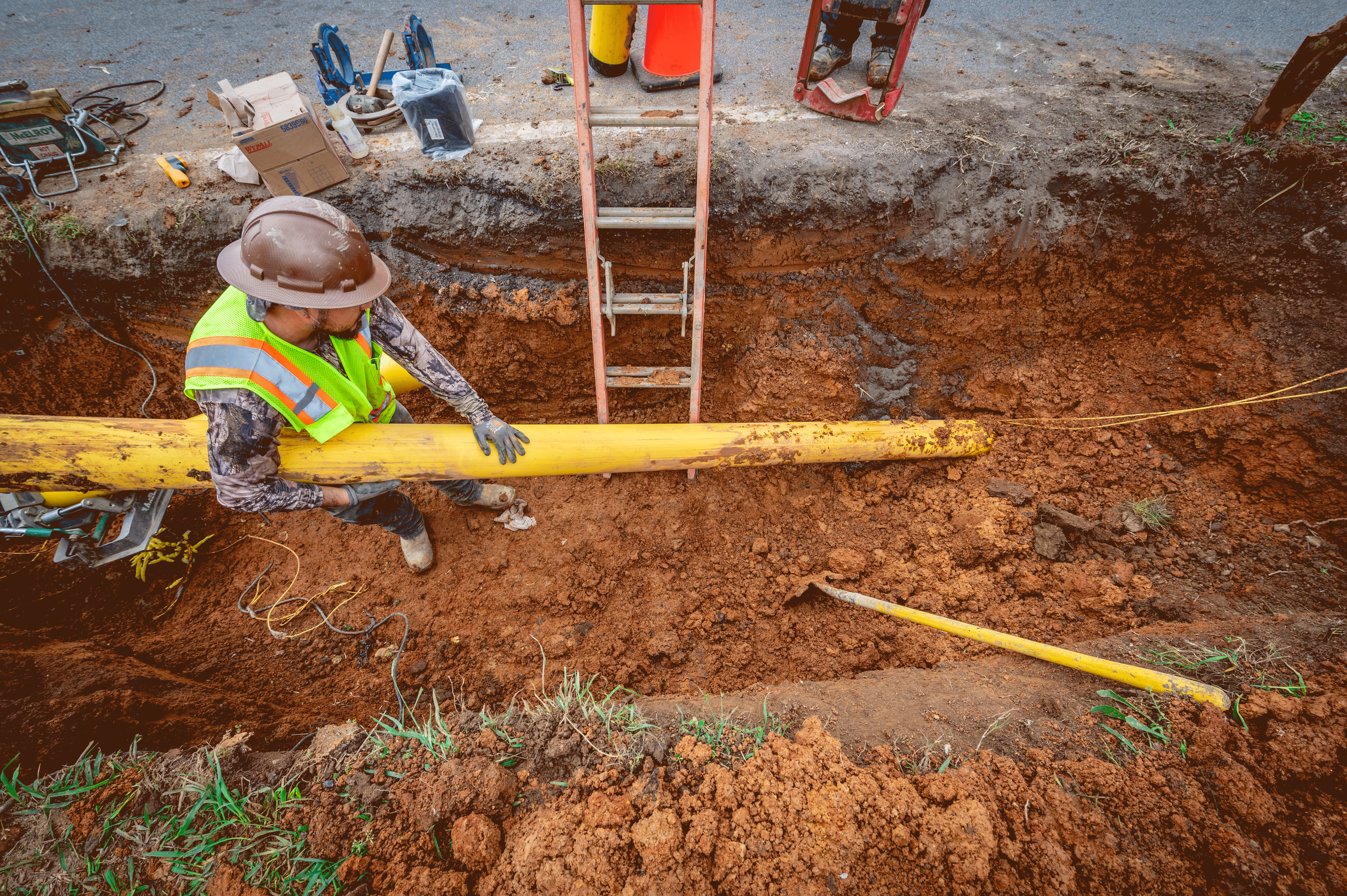 Distribution
Pipeline
Southeast Connections, LLC specializes in pipeline replacement/renewal projects of all types. In addition to pipeline replacement projects, we have vast experience performing system upgrades/updates, pipeline relocations to accommodate public improvement projects, and new pipeline installations to keep up with development or extend distribution systems.
Optimizing Distribution Pipeline Installation
At SEC, we provide convenient and cost-effective solutions for all your pipeline distribution needs. SEC has experience open-cutting, trenching, plowing, boring, horizontal directional drilling, and pipe splitting. With a team of more than 1,600 employees and a large fleet of equipment, SEC can provide an experienced team and the necessary equipment that best fits your project.
Over the course of our twenty-five years, SEC has gained top tier experience installing both plastic and steel pipelines. Our plastic installation experience ranges from 1/2" to 12" PE. While SEC's distribution team typically focuses on 16" steel projects and below, SEC has experience installing up to 42" steel pipe on the Transmission side of our business.
Our team has tremendous experience with projects located in both urban and rural settings, across varying topography, and in many differing geological conditions. No matter the project type or conditions, SEC takes great pride in the safety and quality of our work, ensuring that our work below ground never compromises what is above ground.
Quality Service Throughout the Process
We believe that training our people, providing proper supervision, and auditing what we expect provides superior results. Our teams undergo extensive training, including time spent at SEC's state-of-the-art training center located at our headquarters. Our commitment to ongoing safety and skills training helps ensure we deliver high quality services to our customers. Once in the field, we provide the proper supervision to oversee the work and support our field employees.
We pride ourselves on having the capability to self-perform most any task required for the job. In addition to installing pipelines, SEC crews are often called on to locate gas lines and sewer infrastructure prior to construction, perform conventional bores and horizontal directional drills, restore landscaping, repair paving, and even install final pipework and metering devices prior to relighting customer appliances. Our ability to self-perform these tasks provides scheduling flexibility to our customers plus helps to control the quality of the final product.
Both our Operations and HSE Leadership teams are expected to audit our crews to make sure they are meeting SEC's expectations for performing work in a safe, quality, and compliant manner. Observations are noted in SEC's customized audit program and shared across the organization to continually improve and reduce risk.
Vintage Plastic Replacement Program
The use of plastic pipe in natural gas distribution systems became prevalent in the 1960s and has increased steadily over time. The early generation plastics or "vintage" plastics used in distribution systems have since caused maintenance issues and increased risk profiles for many natural gas operators. Operators are now targeting existing vintage plastic pipelines for replacement.
One of the challenges associated with replacing vintage plastic pipelines is the sheer volume of underground utilities surrounding these lines. At the same time vintage plastics were being installed to the right of way with water and sewer, other utilities such as power lines and phone cables were beginning to be placed underground. In later years, cable TV and fiber internet were installed. It is not uncommon to have 4-6 utilities in the same right-of-way with vintage plastic natural gas pipelines. This underground congestion makes it difficult to install new pipelines using traditional construction methods, such as trenching or horizontal directional drilling, without damaging utilities already in the ground.
I wouldn't normally take the time to call a company and share positive feedback, but I was astonished by how wonderful the SEC team acted and needed to call to thank you. From being extremely clean at their jobsite to their professionalism, along with smiles and friendliness, I was truly touched and impressed by this crew.
Local resident